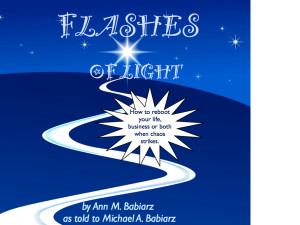 C

H

A

O

S
is when, not if—
Birth or of a child

Death of a partner, spouse or other family member
Divorce
Financial setback or bankruptcy

Job

loss

Marriage

Move

Medical crisis
Natural disaster 

Retirement
Any one of these will cause chaos to strike your life. And odds are, chaos will strike you at some point. And, chaos can come from positive or negative events.  None of us is immune.  How can you safely navigate your way through?
"After all, it isn't what happens to you that matters, it's how you respond to what happens that matters." Ann Babiarz
C

HA

O

S

 — one story
Ann Babiarz is a coach. Together with her husband, Michael, a retired attorney, as well as a business coach, writer and musician, Ann journeyed through chaos as a result of acute and life-threatening health concerns.
Combined with financial strains arising from becoming ill while an entrepreneur, Ann's tale is amazing in itself. Her path took many twists and turns and ups and downs, revealing a compelling story.
But there's more . . .
C

H

A

O

S

 —

n

o

w

w

h

a

t

?
Through this unique and powerful story, learn how to design your life and your work, for real this time. Your challenge is your opportunity, your "do-over."
P

U

R

C

H

A

S

E

F

L

A

S

H

E

S

O

F

L

I

G

H

T
Was $24.00/Now

$15.97

! (+ shipping & handling) 
R

A

V

E

S

F

O

R

 

F

L

A

S

H

E

S

O

F

L

I

G

H

T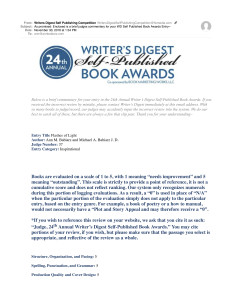 My husband and I were privileged to share a small part of Ann and Michael's journey. As often happens, when geographic distance separates friends, we knew only a limited portion of the greater drama, as it unfolded. Learning the intimate details has only expanded our admiration for this couple.
This beautifully written book is a literal matryoshka of inspirational stories and information. It shares the love story of a very devoted couple and provides a template for how a vigilant and caring support system can partner with medical professionals to achieve astounding results.
You hear the tale of a vigorous battle with a deadly cancer and you also learn the rarely shared inner thoughts of a stroke victim, who is desperately working to overcome her aphasia. Finally, there are very practical tools for working through the maze along the way.
This book is a must for all adults who want to better equip themselves to navigate the inevitable medical crises in life.
Deborah Finch Murphy
☀︎☀︎☀︎☀︎☀︎☀︎☀︎
"Fantastic. Proud to be part of it."
Edward C Grendys Jr MD
Immediate Past President Florida Society of Gynecologic Oncology
☀︎☀︎☀︎☀︎☀︎☀︎☀︎
"Remarkable! I couldn't put it down! The story in itself is compelling, but adding Ann's perspective as a life coach through the periodic flashes of light is brilliant. As a reader, I GOT it! Most memoirs that I've seen are the story only. The flashes of light take it to the next level. . ."
Laura Bertram, paralegal
☀︎☀︎☀︎☀︎☀︎☀︎☀︎
This book was a testament to human ingenuity and tenacity. The author went through many serious fronts and faced them all and came out the victor. She was fighting three huge demons and is now on the other side, happily! The book also had humor interspersed with steps to conquer whatever you are presented with in life. There was courage and a loving support system within the pages. I believe the last paragraph in the book is a fitting ending and shows the author's character and victory with help from the right medical people and her own way of handling a not so pleasant hand of cards. I thought she was a very strong and positive person and anyone reading this book will gain a new perspective to what the author calls "chaos."
Thanks for a very special book.
Gloria Mroz
☀︎☀︎☀︎☀︎☀︎☀︎☀︎
Another positive review for Flashes of Light. Thank you cuz!!
This is a MUST READ for anyone who has any type of challenge in their life, whether it be large or small. By her unique sense of humor she helps lift the burden on anyone's heart and shows just how frightening something can be, how difficult navigating the waters can be, and the rise above anything you put your mind to. Ann is always so very helpful in any possible way, and through "Flashes of Light" she continues her life's work. I know anyone reading this book will be gifted with finding ways to cope and get over the hurdles. Sometime just knowing someone else "knows what I am going through" is enough to make it better. This book is so ANN, charging through life! You see, she is a highly regarded anddeeply loved cousin.
☀︎☀︎☀︎☀︎☀︎☀︎☀︎
"I love the book and feel it will help a lot of people. There is so much going on in the story and so many ups and downs I wanted to get through the book and see how you are and what you did to get there."
Kathleen Bright, spiritual intuitive
☀︎☀︎☀︎☀︎☀︎☀︎☀︎
"For those of you going through an apropo experience, this will be extremely helpful. Having watched her father go through chemotherapy and cancer treatment ultimately leading to his demise, this created a situation where Annie went through even deeper and darker depths of despair)."
Agnes Margaret Weber
☀︎☀︎☀︎☀︎☀︎☀︎☀︎
"Even though I knew the whole story I still laughed and cried through the book.  Ann showed such courage through out her ordeal. She is a miracle. Being in the field I see patients going through this on a daily basis. Ann and Michael have been able to place their experiences on paper to aid others going through similar experiences. Whether you are the individual going through a medical crisis or a caregiver,  this book is for you.
No matter who you are you will learn that you can grow through any crisis and anything you do to help is greatly appreciated.
This book will help you get through your crisis. This book will show you that you are not alone. Your feelings are real and they are yours. No one can take that away from you. You will not be able to put it down—I was not able to…."
Debra Richards, RN, MBA
☀︎☀︎☀︎☀︎☀︎☀︎☀︎
"Beautiful. I laughed, I cried, I laughed some more. Your experience is so heart-touching I have no words to describe how deeply this goes. Amazing story about your frightening reality.I believe your experience will help many people who are facing similar agonizing experiences. I was shocked but yet not surprised at the pit of despair and levels of d arkness you faced. You are an amazing woman and an inspiration."
Crowfox Kimimilawi C. Fleming, Founder/ President, Rocky Mountain Metaphysics, Inc
☀︎☀︎☀︎☀︎☀︎☀︎☀︎
Flashes of Amazing!  
For covering such an intense series of personal events, this book is easy reading, cleanly written,and infused with humor and a real sense of get back up–try it again! Being acquainted with Ann, I was stunned upon reading the first lines of the book which describe a series of events that would easily unravel most. But throughout, Ann gets back up, seeks practical advice and solutions, and keeps wading to higher ground. It is unbelievable to me that this happy go lucky, spunky woman had such a health history and multiple personal scares. I now believe Ann to be the authority on bouncing back. For anyone facing life challenges of any sort, this book will serve to inspire when faced with the chaos life sometimes throws at us.
S. Marx, Author
☀︎☀︎☀︎☀︎☀︎☀︎☀︎
This book is an absolute Treasure !
Once I picked it up, I was engrossed, and couldn't put it down. It was engaging and thought provoking for me on many levels.
Flashes Of Light inspired me to forward the action on several projects that have already contributed greatly to my own sense of peace about myself and my world. I look forward to continued inspiration.
Dori J. Curtis
☀︎☀︎☀︎☀︎☀︎☀︎☀︎
"Anyone who knows me, past & present, can vow that I do not read a great deal.(aside from building instructions). In this case, I picked up your life story and didn't put it down until I had read it through cover to cover! Ann, you took me places I never knew existed. Both tramatic and hilarious, it is theraputic, enlighntining and very much a hope filled endeavor. I lost two girlfriends to the horrific "C" so I understand a bit of what Micheal endured as the nameless caregiver.Thank you for sharring your experience and memories with the world. You have and will continue to touch many lives even after your stay here on the rock we call Earth. I am truely honored to have been mentioned and recall much of our childhood spent frolicking umong terrific times.Your friendship helped shape the soul I am today, and for that I am greatful. Big hugs to you and Micheal, and we do wish to spend some time with you in the future. May the lord bless you and keep you safe ❤️." 
Peggy Ducommun
☀︎☀︎☀︎☀︎☀︎☀︎☀︎
 I am in sheer admiration of your bravery.  Your truth and clarity in relating this big life event!  It is a tribute to you, your skills and the transforming of a horrific life event. You turned black into gold . It is a guide now for others in the stormy seas we all cross at some point in life.  Bravo to you and Michael!
Fondly
Carol A Joyce
☀︎☀︎☀︎☀︎☀︎☀︎☀︎
". very inspirational. [Ann's] ability to keep positive and keep on going is remarkable. . . "
Nancy Judd, Director of Social Services (ret.) PTSCC, Adjunct Professor.
☀︎☀︎☀︎☀︎☀︎☀︎☀︎
"Gut wrenching and inspiring! You were fortunate to have your husband by your side! Love heals!"
Glen Ezekiel, Serial Entrepreneur
☀︎☀︎☀︎☀︎☀︎☀︎☀︎☀︎☀︎☀︎☀︎☀︎☀︎☀︎☀︎☀︎☀︎☀︎☀︎☀︎☀︎☀︎☀︎☀︎☀︎☀︎☀︎☀︎☀︎☀︎☀︎☀︎☀︎☀︎☀︎☀︎☀︎☀︎☀︎☀︎☀︎☀︎☀︎☀︎☀︎☀︎☀︎☀︎☀︎☀︎☀︎☀︎☀︎☀︎☀︎
P

U

R

C

H

A

S

E

F

L

A

S

H

E

S

O

F

L

I

G

H

T
Now

$15.97

! (+ shipping & handling)
*PLEASE NOTE:  Purchases through the above link ONLY will include an author inscription and a donation to cancer research.  This book is also available on Amazon, however, purchases made through Amazon will not include donations or author inscriptions.
For bulk orders of 10 or more copies, please contact our offices at 1.847.525.9129 or ann@annbabiarz.com.